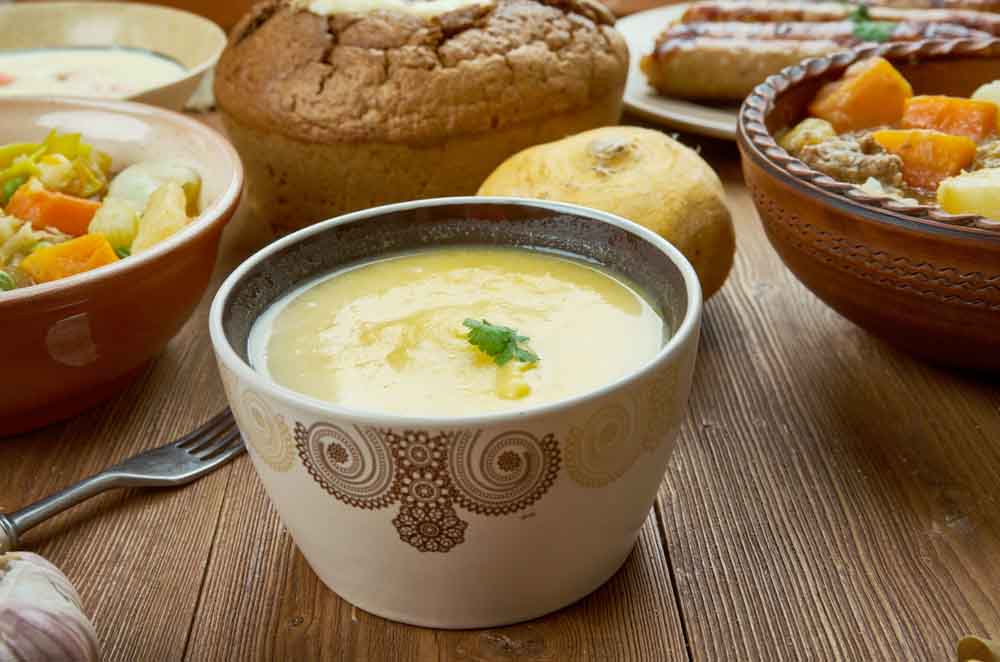 Pub grub has gotten a bad rap for years for being tasteless and boring, but this hearty soup with root veggies simmering in a rich ale-infused beef broth is anything but. The ale adds a sweet note to the rich beefy flavor of the broth.
2 tablespoons olive oil
¼ cup all-purpose flour
Salt and freshly ground black pepper
2 pounds beef chuck or short ribs, fat trimmed and cut into 1-inch pieces
2 medium onions, coarsely chopped
3 cloves garlic, sliced
1 teaspoon dried thyme
One 12-ounce bottle dark ale
3 cups beef broth
4 cups baby carrots
4 medium parsnips, cut into 1-inch lengths
2 cups red, Yukon gold, or new white potatoes
heat the oil in a large skillet over high heat. Combine the flour, 1½ teaspoons salt and ½ teaspoon pepper in a zippertop plastic bag. Toss the meat in the flour, a few pieces at a time.
add the meat, a few pieces at a time, to the oil and brown on all sides. Transfer the browned meat to the insert of a 5- to 7-quart slow cooker.
when all the beef is browned, add the onions, garlic, and thyme to the same skillet over medium-high heat and sauté until the onions begin to soften and become translucent. Add the ale to the pan and scrape up any browned bits from the bottom of the pan.
transfer the contents of the skillet to the slow-cooker insert and add the broth, carrots, parsnips, and potatoes. cover the slow cooker and cook on high for 4 to 5 hours or low for 8 to 10 hours, until the vegetables are tender and the beef is fork tender.
season with salt and pepper before serving.
serves 8