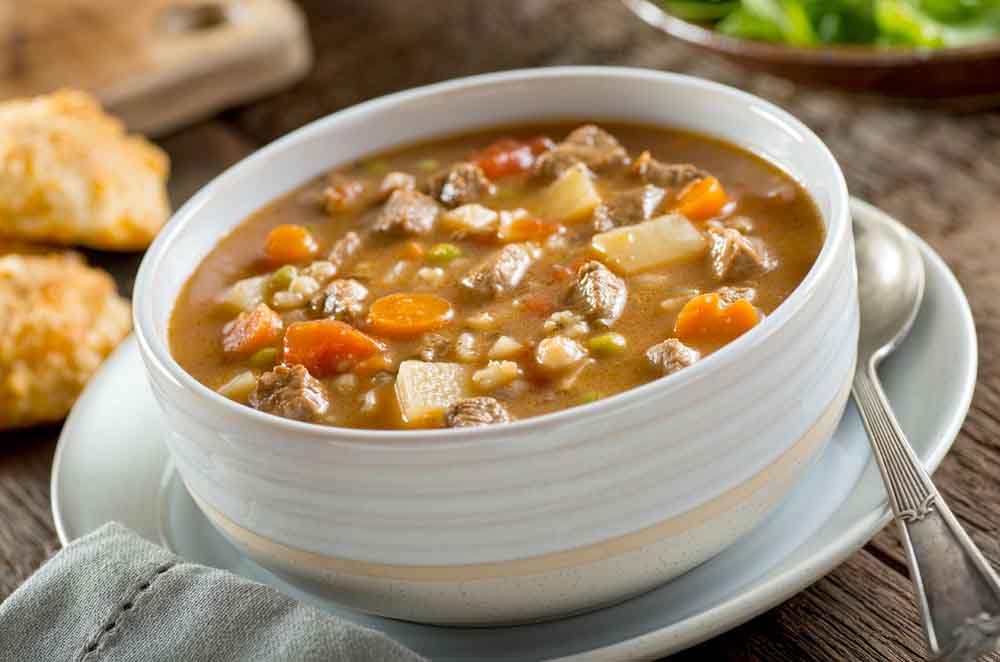 Barley thickens this hearty soup, and the aromas of the thyme, red wine, and meaty broth are a nice welcome-home after a long day. Serving this soup in hollowed- out bread bowls is a great idea for serving a crowd—there is minimal cleanup because you eat the bowl!
2½ to 3 pounds beef chuck, sirloin, or flap meat, cut into ½-inch pieces
Salt and freshly ground black pepper
2 tablespoons extra-virgin olive oil
2 cloves garlic, minced
2 medium onions, coarsely chopped
8 ounces cremini mushrooms, quartered
1½ teaspoons dried thyme
4 medium carrots, coarsely chopped
3 stalks celery with leaves, coarsely chopped
3 tablespoons tomato paste
1 cup medium- to full-bodied red wine, such as Merlot, Chianti, Barolo, or
Cabernet
6 cups beef broth
½ cup pearl barley
sprinkle the beef evenly with the 2 teaspoons salt and 1 teaspoon pepper. Heat the oil in a large skillet over high heat. Add the meat a few pieces at a time and brown on all sides. Transfer the browned meat to the insert of a 5- to 7-quart slow cooker.
add the garlic, onions, mushrooms, and thyme to the same skillet over mediumhigh heat and sauté until the liquid from the mushrooms is evaporated.
transfer the contents of the skillet to the slow-cooker insert. Add the carrots and celery to the cooker and stir to combine. Deglaze the skillet with the tomato paste and wine and allow the wine to reduce by about ¼ cup, stirring up any browned bits from the bottom of the pan.
transfer the tomato mixture to the slow-cooker insert and add the broth and barley. Cover the slow cooker and cook on low for 6 to 7 hours, until the beef and barley are tender.
season with salt and pepper before serving.
serves 8