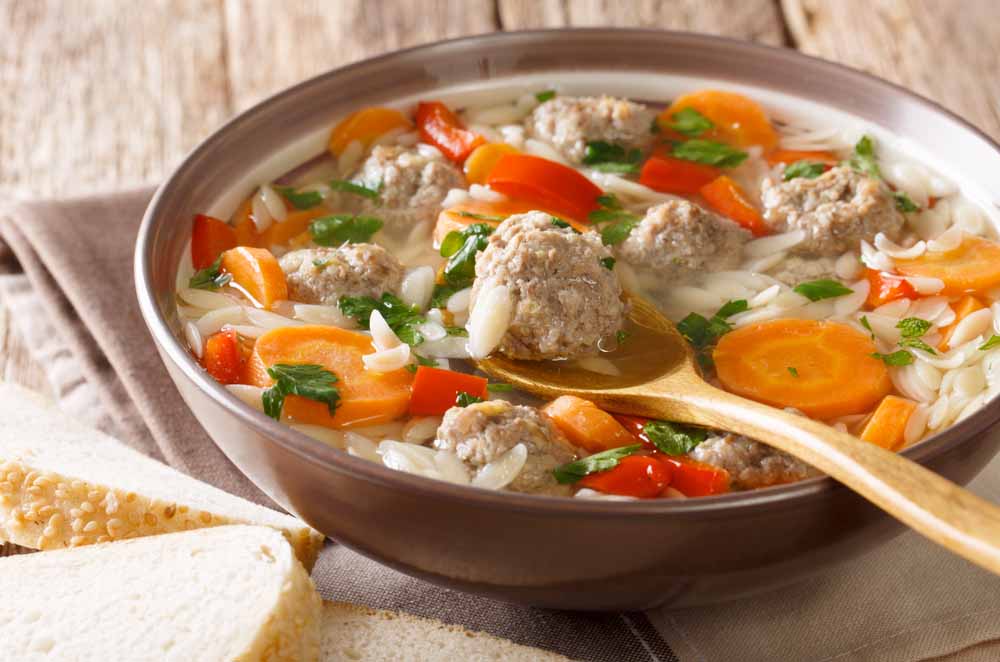 This whole-meal soup is a real crowd pleaser. Filled with tiny meatballs and vegetables in a hearty chicken broth, it will warm up even the coldest day. I find this soup to be very kid friendly—meatballs floating in broth can be much like bobbing for apples for some children. If you don't have time to make your own meatballs, buy prepared frozen mini meatballs, but make sure to defrost them before adding to the soup.
SOUP
8 cups chicken broth
4 cups coarsely chopped escarole or Swiss chard (about 1 pound)
One 15-ounce can small white beans, drained and rinsed
TURKEY MEATBALLS
(Makes about 16–20 one-inch meatballs)
2 slices soft-crusted Italian bread
¼ cup milk
1 pound ground turkey
1 medium shallot, finely chopped
1/ 8 teaspoon freshly grated nutmeg
1 teaspoon salt
½ teaspoon freshly ground black pepper
1
/ 3 cup grated Parmigiano-Reggiano cheese, plus freshly grated Parmigiano-
Reggiano cheese for garnishing
2 tablespoons finely chopped fresh Italian parsley
1 large egg, beaten
put the broth, escarole, and beans in the insert of a 5- to 7-quart slow cooker. Cover and cook on low while preparing the meatballs.
put the bread a large mixing bowl, pour the milk over it, and allow it to soak in.
add the turkey, shallot, nutmeg, salt, pepper, 1 / 3 cup cheese, parsley, and egg,
and stir until the mixture is combined, being careful not to compact it. Using a small scoop, form the mixture into 1-inch balls.
drop the meatballs into the slow-cooker insert. Cover and cook the soup on low for 5 hours, until the meatballs float on the surface.
skim off any foam that may have formed from the top of the soup.
serve the soup garnished with the freshly grated cheese.